The semifinals line-up of ATP Masters 1000 Mutua Madrid Open is emerged after the interesting quarterfinals, which has ended up with a big upset, as Jan Lennard Struff eliminated Stefanos Tsitsipas in the last QFs match in today's evening. The German, who has appeared in the main draw as a lucky loser, was rated as an underdog in the match-up against the tournament's 4th seed, as the pre-match odd for Struff's win was calculated on 4.77. The world's number 65 approached the semis after 3 tight matches, where his serving performance was crucial, and he needed to fight in three-setters, always including at least one tiebreak. It was no different today, as he managed to force the 13th game of opening set despite defending 3 breakpoints on the road, including the setpoint in 10th game, while serving to stay alive in this set. Tsitsipas was close to confirm his advantage in this set, as he was leading 4-1 in the tiebreak with a single breakpoint advantage. Struff prevailed to come back from it, winning 6 out of 7 following points and grabbed the first set by winning the tiebreak by 7-5. Second set was another one, where the German did not create any single breakpoint, but did not manage to survive into tiebreak, as Tsitsipas broke him in 11th game, to move whole the match into distance.
The decider was expected to be the time when Tsitsipas will take control of whole the match. He was close to do this, creating 2 breakpoints in 3rd game, but Struff survived again with very important hold. The following game was crucial, as the German created the only one breakpoint in whole the match and converted it to move into the lead. Tsitsipas had a chance to come back in 7th game, but did not convert the breakpoint again. Struff took care of his advantage till the end and delivered one of the most unusual wins of the year from statistical point of view. He made a big upset on much higher rated opponent despite creating just only one breakpoint, which has occured to be the most important point of whole the match. Tsitsipas created 10 chances, but was not effective enough, converting just one of it. It's a really bitter loss for the Greek, who gets eliminated despite brilliant ratio between winners and unforced errors (35-4). Tsitsipas has also scored 11 aces in compare to just one double fault. Struff's stats were not worse though. He was serving great with 14 aces to just 3 double faults. The German has also clocked the impressive amount of 47 winners, while making just 12 unforced errors.
Jan Lenard Struff will play in his first career's ATP Masters 1000 semifinal against the player... who has already eliminated him from this tournament in the qualifying. Aslan Karatsev eliminated Zhinzhen Zhang in straight sets, winning 7-6(3) 6-4 to also make his maiden ATP Masters 1000 semis appearance. The Russian prevailed in the opening set's tiebreak by winning 7 points in a row since being 0-3 down there. Karatsev followed the blow in the opening game of second set, gaining the only one break of whole the match, which occured to be crucial to secure the semifinal's spot for the current world's number 121. It's definitely one of the most unusual stories from whole the ATP season so far, that the players who has already met in qualies, will play for the final spot in such a high-level tournament. Karatsev scored a confident win over Struff in the qualies, winning 6-4 6-2 after just 74 minutes of play. This time, it is difficult to predict the winner, as both play for a really big stake. Regardless the result of Friday's semifinal, Karatsev will advance at least 70 places in the ATP rankings, moving up from 121th to 51th, or even higher place in next week's ATP ranking. Struff moves up to at least 32th from 65th and can improve his career's highest rank, if he win against Karatsev on Friday.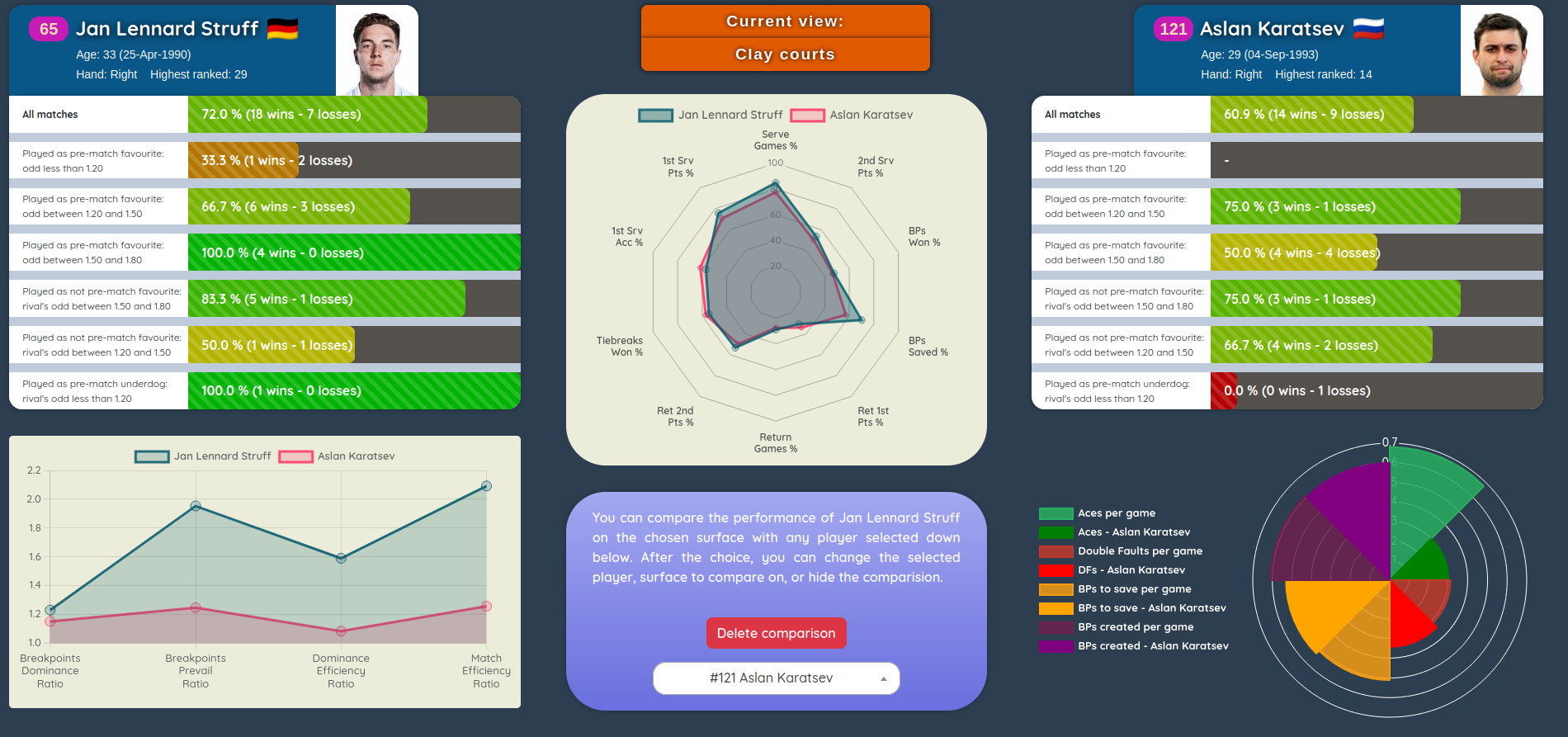 Carlos Alcaraz will play against Borna Coric in the semis pairing from the bottom half of main draw. The home crowd's favorite eliminated Karen Khachanov in straight sets match, which was not a cakewalk for the tournament's top seed, though. Alcaraz won the opening set 6-4, but was already 2-5 down in second one after getting broken in 4th game. Alcaraz showed his class by winning 5 games in a row, giving his opponent no serious chance to force the deciding set there. Borna Coric scored a routine win over Daniel Altmaier. The another German lucky loser from qualies got defeated by the Croatian quite easily, as the world's number 20 scored a comfortable 6-3 6-3 win after just 75 minutes of play.