Swiatek and Muchova set up the revenge
Trained eyes of the fans, who analyzed the draw before the start of this tournament, could notice, that Iga Swiatek and Karolina Muchova are on the collision course to set up the possible clash in 3rd round, which can be a big revenge for this year's final of Roland Garros. The Czech has challenged the world's number one really much, but came up short just a little after a passionate battle between both. Now, Muchova had a chance to try her chances against Swiatek on hard court, as they both meet in round of 16.
Swiatek started her campaign in Montreal on Wednesday, playing against another entitled Czech - Karolina Muchova. It's the second tournament on hard courts this summer for the Pole, who has previously won the lower packed home WTA 250 event in Warsaw. Swiatek was a banker favorite, same as in the majority of her matches, but the opening set was really competitive with the expression, that the Pole has still need clicked her right gear. Despite this, and playing a long and intense battle until tiebreak, Swiatek grabbed the opening set with a score 8-6 after more than hour of play. Second set was a better one for the favorite, especially that Pliskova did not bring the same level of consistency as in the first one. Swiatek routined her 6-2 and moved into second round after 4th victory over Pliskova in all 4 matches played between both so far in their careers.
Karolina Muchova advanced into third round after two matches, where she was a favorite, but the odds were not writing off her opponents, as both Anastasia Potapova and Sorana Cirstea have proved earlier in the season, that they can perform well on hard courts. Muchova was looking for the breakthrough after quite a shocking lose against Rebecca Sramkova in the WTA 250 event in Warsaw, mentioned above. The Czech was 2nd seed there, looking forward to play against Swiatek in the final according to the draw, but got sensationally eliminated by the Slovakian in second round despite leading 5-1 and 40-15 during own service game in deciding set. The recent Roland Garros runner-up has seemingly cleared this upset out of her mind, as she performed two straight set wins over Potapova and Cirstea.
Here is the overview of Swiatek's and Muchova's performance on hard courts before their 3rd round clash according to TennisRatio data analysis: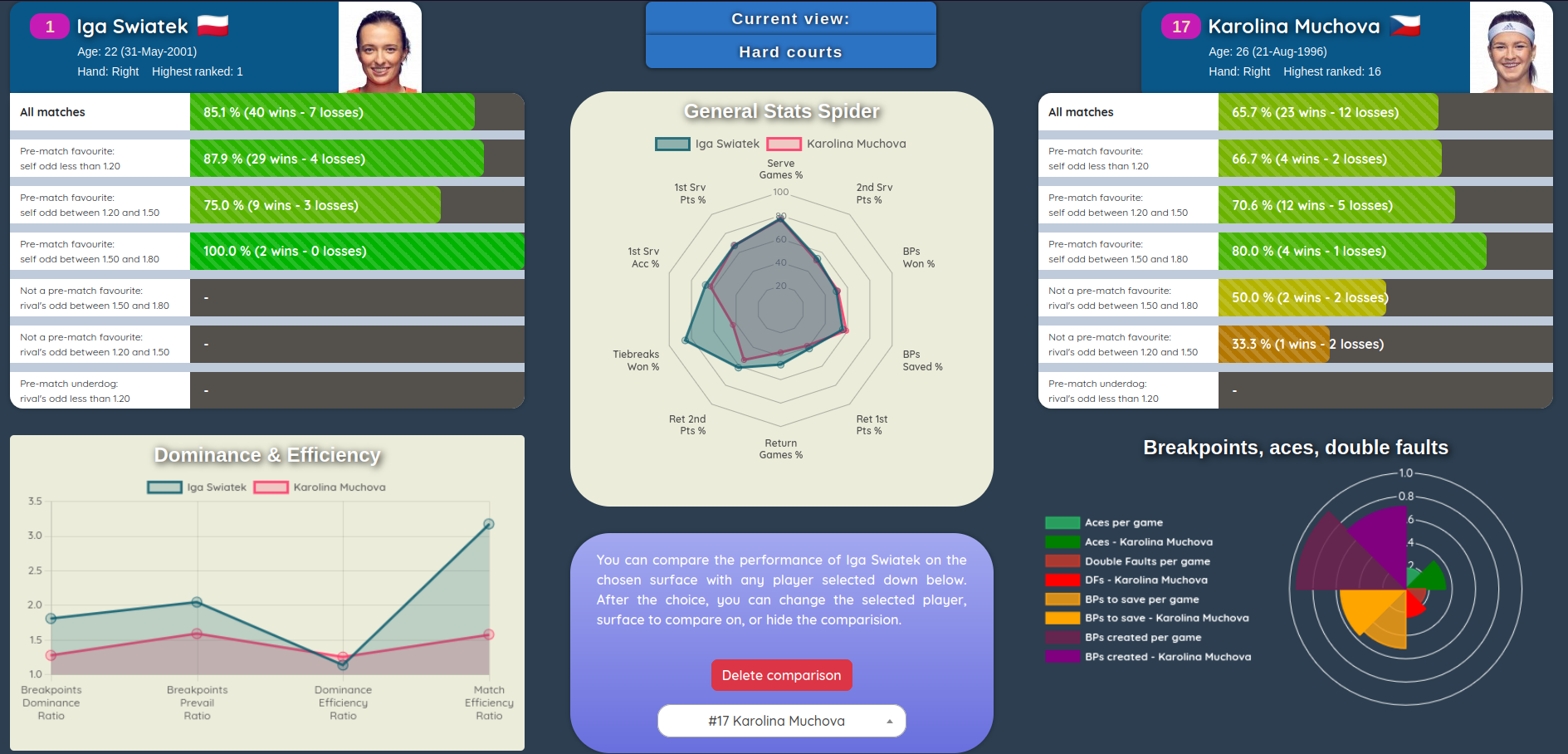 Vondrousova eliminates Wozniacki
Marketa Vondrousova and Caroline Wozniacki had set up the intriguing clashes between the names, who made some real noise in the WTA world in recent weeks. The Czech plays her first tournament as a new Grand Slam champion and world's top 10 player, while the Dane has impressed with a successful comeback from the 3.5 years-long retirement, advancing to the second round after straight sets win over Kimberly Birrell a day before. Vondrousova was quite an obvious favorite there with an odd 1.25 and started the match as expected, taking the opening set by 6-2. The 2023 Wimbledon champion had a visible physical advantage over Wozniacki, but the former world's number one was not without chances in this part of match, as she had two uncoverted breakpoint chances to move up into 2-0 lead in second set.
Start of a second set looked even better from Vondrousova, who was overplaying her opponent and quickly moved up into 3-0 lead with double break advantage. This has not discouraged Wozniacki though, as the Dane showed some signs of her well-known class and came back level after great period of play. Wozniacki was still in contention after performing a big hold in 7th game, which was the longest in whole match, containing 8 deuces and 4 breakpoints saved by the veteran. Wozniacki could even move up into 5-3 lead, but missed her last breakpoint opportunity in this match in the following game. Vondrousova has regained her lead in 11th game and won the whole thing by 6-2 7-5.
Despite losing in straights, it was another good display of performance from Wozniacki, who tested herself against the the opponent from a top level. She was able to take the initiative on her side at one point, making a good use from her backhand. Wozniacki scored 16 backhand winners, which was a really good sign for the future after such a long break from competing. Both the players ended up with significantly negative ratio between winners and errors, though. Vondrousova scored 18 winners in general in compare to 32 unforced errors, while the Wozniacki has hit 20 winners and commited as many as 41 unforced errors.

Good start for the contenders
The names expected to play a big role in this tournament, started their Montreal's campaign from the win, but it was not a cakewalk in all the examples. Elena Rybakina has started her match against Jennifer Brady on Tuesday, but it got interrupted in the rain during the tiebreak of first set. After coming back on court on Wednesday's afternoon, Brady made a use of the small margin gained in tiebreak before and pushed through taking opening set on her account. The second one was also a tight and intense battle, as the American was able to keep up the level of her favorized opponent. The players approaches another tiebreak in second set, where Brady was two points away from winning within a score 5-5. Rybakina handled the pressure and won this set by a margin. Third set was no less competitive, as both the players have chances to break in 5 out of first 8 games, but it was Rybakina who finally gained the first and as it occured - decisive gap, breaking Brady to love in 8th game. The score is 7-6(3) 6-7(5) 6-3 from the perspective of world's number three, but the American can hold her head up high for sure. Brady shows an impressive performance after 2 years of break forced by injury issues, being able to compete with the world's top players just from the start.
Jessica Pegula and Cori Gauff are just both one win away from setting up the quarterfinal's match-up between two top ranked Americans. The players, who do also play doubles together in Montreal, started their singles journey in Montreal from straight sets victories against lower ranked players. Gauff came back on court after winning the WTA 500 title in Washington, scoring a comfortable 6-2 6-2 victory over Katie Boulter and plays against Marketa Vondrousova in one of the best match-ups of 3rd round. Pegula defeated Yulia Putintiseva 6-4 6-4 and plays against Jasmine Paolini next.
Aryna Sabalenka stays in contention for the crown of world's number one, as she started her week in Montreal from straight sets win over Petra Martic. It was not a cakewalk for the Belarusian, who was down a break twice in second set. Martic was serving for a set within a score 5-3, but Sabalenka denied taking this match into whole distance and won it by 6-3 7-6(5) at the end. Liudmila Samsonova is her next opponent after defeating Qinwen Zheng by 6-3 6-2 in surprisingly one-sided match.
Petra Kvitova played her first match on hard courts after winning the Miami Open in March. The challenge for 7th seed was quite a big one, as she played against Camila Giorgi - the reigning champion of this tournament, who was on a roll of 3 wins after the necessity to play qualifiers. Kvitova was having this match under control after comfortable first set won by 6-2 and being up a break in second. Giorgi did not give up though and broke Kvitova who was serving for a match. The Italian won 3 games in a row to move match into whole distance, but it was not enough to take up the fight for victory, as Kvitova served her the bagel in third set. The Czech sets up the interesting match-up against Belinda Bencic in next round. The Swiss denied the upset against Alycia Parks, winning by 6-3 5-7 6-4 despite being down a break in third set of an exciting match, which lasted 2:40 hours.

Fernandez astonishes the home crowd
The match between Leylah Fernandez and Beatriz Haddad Maia was the most intense fight from all the Wednesday's matches. The atmosphere was warmed up by the passionate support of Canadian fans, who were standing by the side of the last standing home crowd's favorite in the draw. Fernandez was doing good from the start, as she took the tight first set by 7-5 and had a break lead in second one. Haddad Maia, who is known from her long and thrilling battles played before in 2023 season, survived this as she cleared the break gap and defended matchpoint within own serve in 10th game. The 11th seed forced a decider, where both players were taking care of their serves well till 8th game, when Fernandez created and converted the only one breakpoints in whole set. 7-5 5-7 6-3 after almost 3 hours of play made the crowd super happy. Fernandez plays against Danielle Collins next. The American performed the only one upset of the day, as all the other winners were quite expected by the odds. Collins, rated by 2.43 prior to the match against the 8th seed and Washington's runner-up Maria Sakkari, showed a good display of her dominant gamestyle, playing possibly her best tennis in this season so far. The current world's number 49 extended her winning streak to 4 in a row including the qualifiers played before a start of main draw.