The Roland Garros 2017 champion has written one of the headlines of whole the 2023 season. The Latvian performed a big upset in her 4th round match against Iga Swiatek, which resulted with losing the crown of world's number one by the Pole, who was undisputed leader of the WTA rankings by 75 consecutive weeks. The victory of Ostapenko is also the biggest upset on paper in whole the tournament, related to odds, which rated her pre-match chances as 6.47. The sizes of Swiatek's loss are more surprising than the result itself, as she has never won the match against Ostapenko in all of their 3 previous matches. Swiatek has slipped away the advantage of being a set up, and especially her responsless performance in 3rd set, when she did not win any single service game, was somewhat a sensation. Ostapenko won by 3-6 6-3 6-1 and plays against Cori Gauff in possibly most electric match-up out of all the quarterfinals.
The American was considered as one of the top favorites after her great results achieved during the August's hard-courts swing, when she won the tournaments in Washington and Cincinnati. Gauff's form in New York did not bring her convincing victories, as she needed to take up three 3-sets battles in four matches played so far. Despite this, Gauff showed the resillience and a skill to overcome the issues during matches on biggest stage, which can be a key factor to clinch the maiden Grand Slam victory. The outcome of match against Ostapenko is difficult to predict, as it can mostly depend on form of the day presented by the Latvian. Ostapenko won the match against Swiatek mainly due to being super consistent, as she made just 20 unforced errors throughout whole the match. This kind of day does not happen too often for her though, as she showed up much more erratically in some previous rounds. Ostapenko needs to repeat the performance from Sunday to overcome Gauff, who showed the patience needed to overcome difficult three-sets battles earlier on in this fortnight.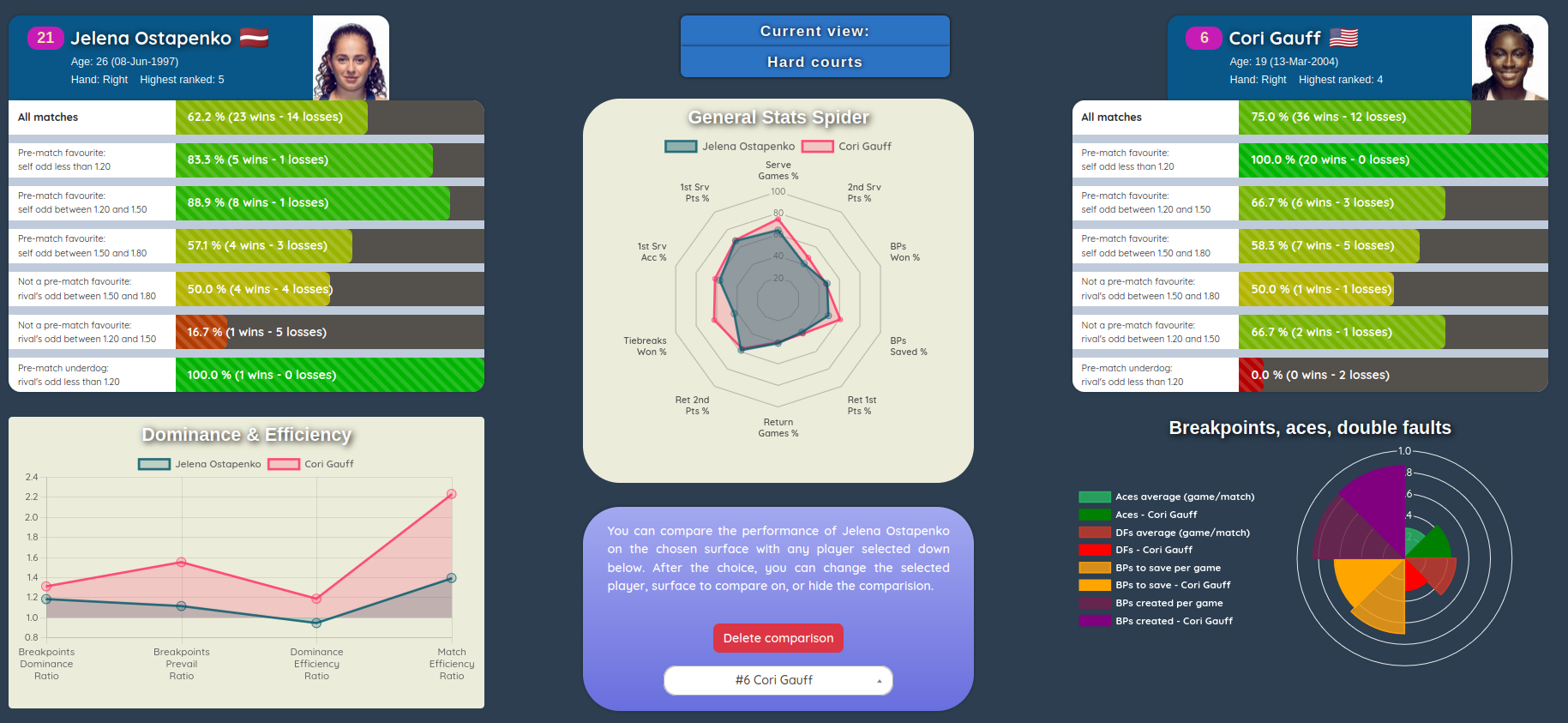 The Romanian is the most sensational quarterfinalist in this tournament, but it's not the first time, when she showed a brilliant performance on the American soil this year. Cirstea achieved great results in the Sunshine Double five months ago, when she advanced into quarterfinal in Indian Wells and even improved in the Miami Open, reaching out the semis there. Advancing into QFs in New York is not any fluke for Cirstea, who earned for this by defeating two top notch players in a row. Cirstea made it the fall of first big contender of this tournament, as she surprisingly eliminated Elena Rybakina in 3rd round. The 33 years-old capitalized on great form to make another upset in the match against 15th seed Belinda Bencic, sealing comfortable win with a score 6-3 6-3.
Karolina Muchova approached Flushing Meadows just after the run into final of WTA 1000 in Cincinnati. The Czech managed to rest up well during the one week break before Grand Slam and used a great chance of making a deep run due to a really formidable part of draw, where she got placed to play against much lower rated players in all the 4 rounds played so far. Muchova was a banker favorite in all the matches, as the highest odd for her win was just 1.20 against Taylor Townsend in 3rd round. Muchova lost just one set on the road to quarterfinal, winning by 6-3 5-7 6-1 in latest match against Xin Yu Wang. Sorana Cirstea looks like much more challenging opponent than those met already in this tournament, but the world's number 10 should be considered as a favorite also in this match.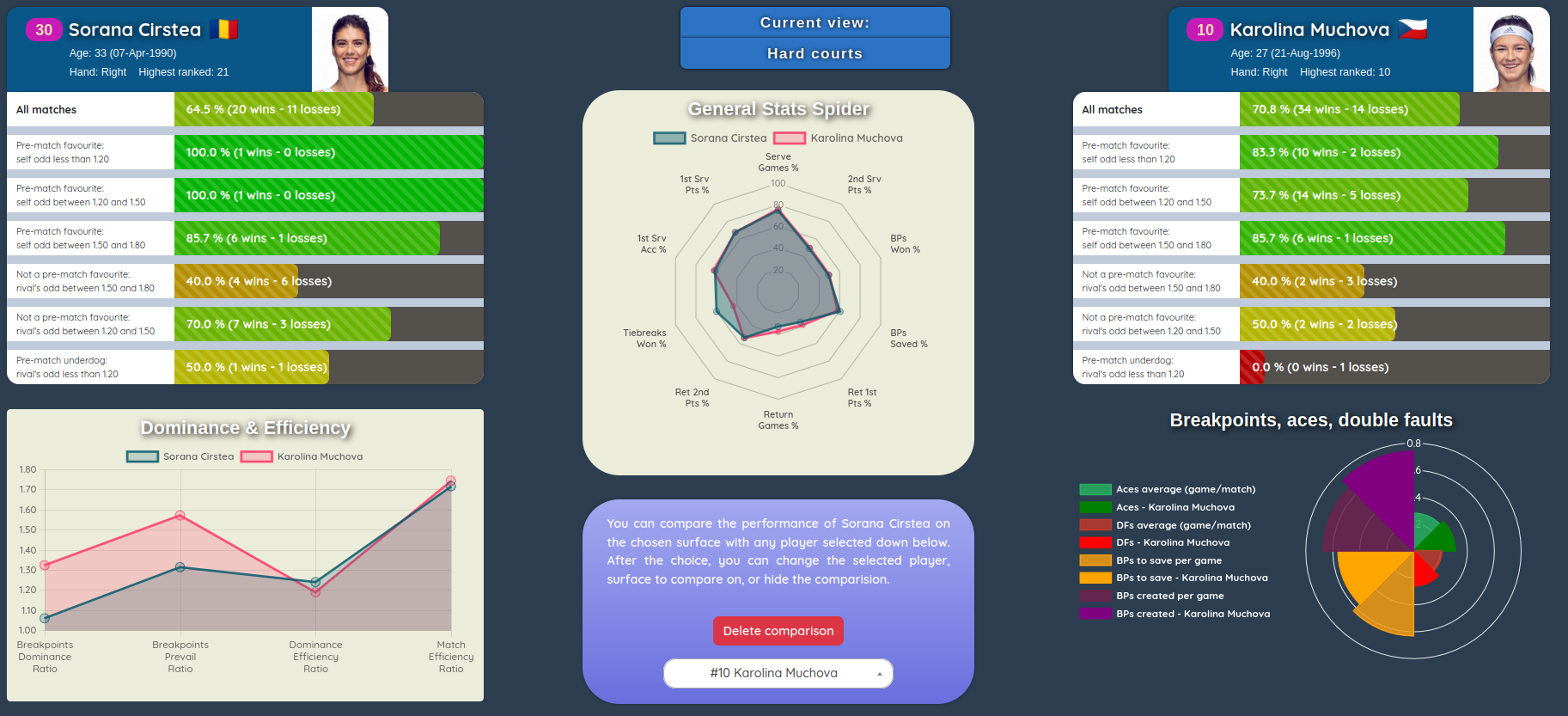 Marketa Vondrousova shows up really well in the first major event played as a Grand Slam champion and world's top 10 player. The Czech has stormed through the draw up until 4th round, losing just 10 games in her first 3 matches. The first serious challenge appeared in 4th round, where Vondrousova met Peyton Stearns, who noted the surprising run into top 16. Despite losing the opening set in tie-break, Vondrousova routined her opponent in two following sets and advanced into quarters with a score 6-7(3) 6-3 6-2. There are some big concerns for the Wimbledon champ, though, as she has seemingly suffered an elbow injury during this match. Vondrousova has already withdrawn from of doubles competition, where she has also advanced into quarters, pairing up with fellowcountry Barbora Strycova. Her appearance in QF clash against Madison Keys is a question mark at this point.
Keys is second of the Americans alongside Gauff to make it through the quarters. It can be called as somewhat surprise, as most of the fans could expect Jessica Pegula to take that place, but the world's number 3 has ended up with another disappointment in her Grand Slam appearances this year. Madison Keys showed a great display of tennis against the top ranked American to defeat her by 6-3 6-1 in the match of 4th round. Keys does already know the feeling of making deep run in Flushing Meadows, as she was the runner-up there in 2017 and semifinalist in 2018. The American is surely not to be written-off in match against Vondrousova, especially having on mind the possible injury issue of the Czech. The scenario of the all-American final is still on, as Keys and Gauff play in different halves of the draw and both have the tools to win their possible two following matches on the road to final.


Sabalenka was more than close to end the supremacy of Iga Swiatek in the world's ranking, as she has set up herself in a good position to do that by winning the Australian Open in January. The Belarusian could become the new world's number one twice earlier this season, but slipped down this chance in semifinals of Roland Garros and Wimbledon. This time, Sabalenka did not need to fight on her own for that crown, as she stepped on the court in her 4th round match against Daria Kasatkina, already knowing that Swiatek is out of the tournament and it makes her the new #1 on next Monday. Without a pressure of the fight in rankings, Sabalenka showed up really well, winning by 6-1 6-3 against the 13th seed. It's a good chance for her to prove that she is a deserved new world's number one, being on a path to possible second Grand Slam title on hard courts this year.
Qinwen Zheng achieves her best ever Grand Slam's result, becoming a quarterfinalist for the first time. This season was not a perfect one for the Chinese so far, but it got highlighted by her first WTA title achieved on clay courts in Palermo, six weeks months ago. Despite quite a disappointing start of the 2023, this year can be noted as a good one for Zheng, who made a breakthrough run in Flushing Meadows, being in contention for the biggest things on Grand Slam stage for the first time ever. Zheng capitalized on a relatively easy draw in first three rounds, but needed to fight for denying the possible upsets against Kaia Kanepi and Lucia Bronzetti. Both the matches ended up with three-sets win for the Chinese. While playing against the first opponent from top 10 in this tournament, Zheng showed a dominant performance, defeating last year's finalist Ons Jabeur by 6-2 6-4.